Grace Foundation of Destin Supports Children in Crisis
Children in Crisis
is blessed to have amazing house parents that care for the children living at the Children's Neighborhood. These individuals live on campus with the more than 50 children currently in our care. They give up their homes and their main job is to care for and love these foster children, and they do an amazing job. The relationships that are bonded last long after the children are reunited with their families or adopted. Therefore, we are always looking for outlets to strengthen those bonds. One of the ways we will accomplish this is putting our house "Dads" through a program called "Raising a Modern Day Knight." These workbooks inspire and encourage men to connect with their sons. This will help our House Dads be stronger role models for the troubled young men that would have no male figures in their lives without them, even if reunified with their parents: a father still may not be in the picture. The program is made possible in part by a grant from The Grace Foundation of Destin, and we are thankful for its continued and constant support of our mission to provide a home to the abused, abandoned, and neglected children of Okaloosa, Walton, Escambia, and Santa Rosa counties.
Terry Pilcher Named 2015 ECAR Realtor® of the Year
The
Emerald Coast Association of REALTORS®
(ECAR) honored its leading members at its 2015 awards event, held Dec. 3, at the Bayview Club on Eglin Air Force Base. Big winner of the night was Terry Pilcher, a member of ECAR since 2001 and multiple-time North Walton Chapter Realtor® of the Year, Pilcher was named 2015 ECAR Realtor® of the Year. Pilcher of Merrifield and Pilcher Realty is the incoming President-elect for 2016 and will be President of the Association in 2017.
Additional ECAR award winners include:
• 2015 Crestview Realtor of the Year: Lori Wenrich
• 2015 Commercial Realtor of the Year: Chad Knaepple
• 2015 Destin Realtor of the Year: Abner Williams
• 2015 Fort Walton Beach Realtor of the Year: Ben Acock
• 2015 Niceville Realtor of the Year: Cathy Alley
• 2015 South Walton Realtor of the Year: Michele Bailey
• 2015 Unsung Hero: Kerry Kelly
Beachside Community Church helps Children at Christmas
Ted Randall, Jake Miller, and Shawn Ellis of Beachside Community Church of Fort Walton Beach presented a $5,000 donation to the kids living at
Children in Crisis
(CIC). They are seen here with Ken Hair, CIC president and CEO. Thanks to the generous donations from the members, the kids living at the CIC Neighborhood will have a wonderful Christmas. The donation will also help provide a home and care for the more than 100 children that will call CIC home this year.
Medical Center Gives Early Christmas Present to Children's Center
The Arc of the Emerald Coast
Children's Center received an early Christmas present from
Fort Walton Beach Medical Center
employees and Fort Walton Beach Medical Center Auxiliary. During the United Way Day of Caring, employees from the Fort Walton Beach Medical Center volunteered and worked at The Children's Center located on Holmes Ave in Fort Walton Beach. During that time they learned of the need for a new commercial grade dishwasher for the facility, and they took action. From sales in the gift shop, run by the Fort Walton Beach Auxiliary, to last minute donuts sale by the administrative office, they didn't give up until every penny was raised. Thanks to this generous group's time and more, they raised more than $3,000.
Sacred Heart Hospital Christmas Angel Drive Benefits 69 Local Children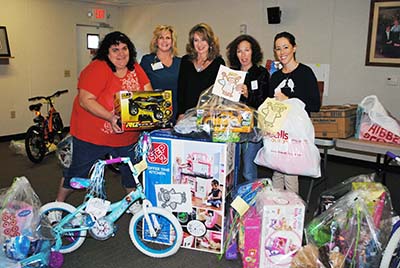 During this special holiday season of caring and sharing,
Sacred Heart Hospital on the Emerald Coast
's associates and physicians fulfilled 69 Christmas angel requests. The annual Christmas Angel Drive benefitted the Emerald Coast
Children's Advocacy Center
of DeFuniak Springs, in addition to supporting several Sacred Heart associates and families who requested assistance. Seen here, Sacred Heart Hospital and Children's Advocacy Center associates are pictured with Christmas Angel gifts donated by hospital associates and physicians.
Dr. Poelstra Demonstrates New Spine Surgery Techniques at Las Vegas Forum
Dr. Kornelis Poelstra, orthopedic and neurological spine surgeon and medical director of the Spine Center at
Sacred Heart Hospital on the Emerald Coast
, recently chaired the Global Forum for the Society for Minimally Invasive Spine Surgery (SMISS) in Las Vegas, NV. He led various debates and surgical simulations to demonstrate a variety of novel procedures he performs using robotic spine surgery technology, only available in our area at Sacred Heart Hospital on the Emerald Coast. On Nov. 30, Dr. Poelstra completed his 100th robotic-assisted spine surgery with the Mazor system.