Cruise through the Holidays and Give Unforgettable Memories
Guests can celebrate Thanksgiving on the water on
SunQuest Cruises
' SOLARIS Thanksgiving Buffet Cruises on Thursday, Nov. 26, with the lunch cruise from 12 - 2 p.m. and the dinner cruise from 6 - 8 p.m. The SOLARIS chefs freshly prepare a cornucopia of coastal and traditional cuisines aboard the yacht's galley. The Thanksgiving celebration continues through the weekend as the SOLARIS offers fine dining and dancing cruises on Friday, Nov. 27, and Saturday, Nov. 28, from 6 – 9 p.m.
Enjoy the elegant fusion of a luxurious yacht, ambiance, romance, and entertainment on SunQuest Cruises annual New Year's Eve Fireworks, Dinner and Dancing Cruise on Thursday, Dec. 31, from 8 p.m. – 12:30 a.m. Patrons will embark on a memorable evening that includes a five-course seated dinner, live entertainment, fireworks, party favors and champagne.
Covenant Care Announces Chief Growth Officer
Covenant Care is pleased to announce its new Senior Vice President and Chief Growth Officer Ron Fried. In this position, Fried will support the mission of Covenant Care – a family of services including
Covenant Hospice
, Covenant Alzheimer's Services, Covenant Palliative Care, and Covenant Kids – by focusing on growth initiatives that will allow the not-for-profit organization to serve an increased number of patients through a continuum of integrated healthcare services.
Call to Craft, Antique & Art Vendors for DEC 12 Annual Christmas Festival
The
Heritage Museum of Northwest Florida
announces its "Call to Craft, Antique & Art Vendors" for annual Yule of Yesteryear - Christmas Festival on Saturday, Dec. 12, from 10 a.m. – 4 p.m. For an application and to reserve a 10x10 space, visit
www.Heritage-Museum.org
, call (850) 678-2615, or email
info@heritage-museum.org
.
Gulfarium Welcomes Juvenile Dolphin to the Family
Gulfarium Marine Adventure Park
is pleased to announce the addition of Zeke, a juvenile bottlenose dolphin, to the park's resident animal family. Born in May of 2013 at Gulf World Marine Park in Panama City Beach, Zeke is the result of a successful cooperative breeding agreement between the two parks. Zeke's sire, Zac, is a 20-year old male born at the Gulfarium and transported to Gulf World in January of 2012, just prior to the Gulfarium's major renovations that year. He successfully bred with several females during his stay, including Zeke's mother, Indie.
Sacred Heart Hospital o Donates $74,000 to Support Hospital Initiatives
The
Sacred Heart Hospital on the Emerald Coast
Volunteer Guild recently donated $74,000 to fund several capital projects at the hospital. Each year, the Guild invites hospital departments to apply for grants, and this year's efforts funded seven pieces of equipment, including:
- A bladder scanner ($11,500) for the Intensive Care Unit to assess urinary retention, evaluate urological condition, and help prevent unnecessary catheterization in patients.
- A new vaccine refrigerator ($6,516) for the pharmacy.
- A special machine for the blood bank ($7,730) that washes red blood cells prior to testing, thereby increasing efficiency and safety.
- A handheld ultrasound device ($9,800) that enables physicians to view internal organs within seconds.
- A new EKG machine ($15,260) that allows clinicians to rapidly assess patients with signs of a heart attack.
- An electrosurgical system ($16,980) that provides electrosurgical cutting, coagulation, and vessel sealing.
- A zero-gravity mobile arm support for rehabilitation ($6,153) to aid patients with upper body mobility and lifting.
Funds are raised through the hospital's Gift Shop sales and proceeds from the annual Emerald Coast Duck Regatta. Members of the Sacred Heart Hospital on the Emerald Coast Volunteer Guild are seen here.
Local Dentist To Teach at ADA Meeting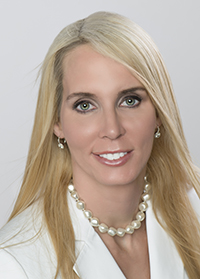 Local dentist Amber Wiebe, DMD, MAGD, FICOI, of
Santa Rosa Beach Dental
has been chosen to travel to Washington, DC, to train dentists, physicians, and nurses from all over the world in Botox and facial fillers during the American Dental Association's (ADA) annual meeting. As an accomplished national instructor and having achieved her Mastership in the American Academy of Facial Esthetics (MAAFE), Wiebe will share her knowledge and experience. Wiebe is the first professional from the Gulf Coast to be asked to attend the ADA's meeting as an instructor.
Ruth Sherrer joins World Impact Real Estate
As a native Floridian, Ruth Sherrer has a heritage and passion for this beautiful area with its bayous and beaches. She graduated from Fort Walton Beach High School and received a business/marketing degree from Florida State University. Upon graduating from a Bible School in Dallas, Ruth met and married a Danish man and moved to Copenhagen, Denmark. She lived there for nine years and gained knowledge of the European mindset and customs. She still speaks fluent Danish, and her son lives there now attending a top Danish University. With 10 years' experience in the real estate industry, Sherrer has worked primarily in mortgage lending with Wells Fargo Mortgage in Destin and Countrywide in Fort Walton Beach. Her specialty has been networking with other professionals to ensure timely closings of real estate transactions. She is president of Driftwood Properties of NW FL, LLC, an investment company, and is a member of the local Professional Investors Guild. Sherrer, now with
World Impact Real Estate
, may be reached at (850) 710-0960.
2016 South Walton Artist of the Year Announced
The
Cultural Arts Alliance of Walton County
member artist and instructor Melody Bogle has been named 2016 South Walton Artist of the Year. Now in its 15th year, the Artist of the Year program has grown to showcase a collection of local artists that offer a wide range of mediums. Through this program, the TDC promotes the destination's thriving arts community and places the spotlight on a talented artist each year. Bogle is a Plein Air enthusiast, was awarded 2013 ArtsQuest Fine Arts Festival Best in Show, was former president of the Pastel Society of Florida, was a national award winner, and is a patient and thoughtful instructor.
CAA Partners with ECTC to Bring Professional Theatre to Walton Schools
The
Cultural Arts Alliance (CAA) of Walton County
is proud to announce a partnership with
Emerald Coast Theatre Company
(ECTC) to bring professional educational theatre to every public elementary school in Walton County during the 2015 Fall Semester. Before the end of the year, more than 3,000 students in seven schools, including Paxton, Maude Saunders, West DeFuniak, Mossy Head, Freeport, Butler, and Bay, will have been treated to a live performance of the children's adaptation of Shakespeare's A Midsummer Night's Dream performed by ECTC's professional actors. This Educational Tour is being funded by the CAA's Art For All Program, which provides arts and culture opportunities to Walton County with a focus on youth and education, including grants for arts education programming.
Philippine Bayanihan Association Helps Children in Crisis
The Philippine Bayanihan Association recently showed its support to
Children in Crisis
(CIC) by awarding a grant of $1,000 to help sustain operations of the CIC Children's Neighborhood. Seen here, Susan Stillwell, president of the Philippine Bayanihan Association, Coronation Queens, Board of Directors, and members present the donation to Ken Hair, CIC president and CEO.
ECAR Donates to Four Local Music Programs
The
Emerald Coast Association of Realtors
(ECAR) surprised four area elementary schools this week with donations to their music programs. The Community and Military Outreach Committee (CMOC) is ECAR's arm for planning and implementing community service and military support projects. CMOC members spent the week delivering $900 checks to elated music teachers at Mary Esther, Shalimar, Freeport, and West DeFuniak Elementary Schools. Shalimar Elementary is pictured here.
MKAF Announces 2015 Festival of the Arts Winners
Local and regional artists who gathered on the Northwest Florida Gulf Coast from 19 different US cities to exhibit in the 20th Annual
Mattie Kelly Arts Foundation
(MKAF) Festival of the Arts were awarded $10,000 in cash art prize awards honors. The two-day signature art celebration, held Oct. 24 and 25 in the Mattie Kelly Cultural Arts Village, featured exhibits of more than 100 artists from 12 states showcasing a diverse palette of artistic styles in 18 different art mediums.
Craig and Tracy Wilson won both a Judges Award and the People's Choice Award for their clay artwork. For the third year, the Best in Show winner (seen here) of the Collaborative Art Tent was awarded to a high school student - Sarah Adams from Niceville High School.
The full roster of artists honored is as follows:
Best in Show Winner ($1,600)
Lorri Honeycutt, Photography, Austin, Texas
Award of Excellence Winners ($800)
Juan Francisco Adaro, Mixed Media, Freeport, Fla.
Mitchell Grafton, Ceramics, Panama City, Fla.
Carole Jayne, Metal, Blountstown, Fla.
Award of Merit Winners ($400)
George Bragg, Metal, Panama City Beach, Fla.
Carroll Swayze, Acrylic, Englewood, Fla.
Jeannie Maddox, Oil, Dothan, Ala.
Martin Figlinski, Oil, Lynn Haven, Fla.
Judges Recognition Award Winners ($200)
Terri Cadman & Martha Cummins, Wood, New Market, Tenn.
John Maurer, Oil/Acrylic, St. Petersburg, Fla.
Barbara Umbel, Jewelry, Indian Harbour Beach, Fla.
Daryl Harwood, Mixed Media, Panama City Beach, Fla.
Don Nedobeck, Painting, Deland, Fla.
Jenny Wang, Jewelry, Tallahassee, Fla.
Fred Fisher, Mixed Media, Quincy, Fla.
Paul Arthur, Wood, Freeport, Fla.
Lesha Porche, Watercolor, Niceville, Fla.
Becky Hart, Mixed Media, Santa Rosa Beach, Fla.
Craig & Tracy Wilson, Clay, Blue Springs, Miss.
People's Choice Award ($800)
Craig & Tracy Wilson, Clay, Blue Springs, Miss.
Poster Art Contest Winner ($500)
Andrea "Andi" Scurto, Destin, Fla.
Collaborative Exhibit Winners
Best in Show ($250), Sarah Adams, Niceville High School
Adult 1st Place ($100), Ian Fagan
Adult 2nd Place ($75), Maria Coello
Adult 3rd Place ($50), John Murphy
Student 1st Place ($100), Taylor Conley, Niceville High School
Student 2nd Place ($75), Emily Grace Bishop,
Rocky Bayou Christian School
Student 3rd Place ($50), Madison Rusch, Niceville High School